Real. Culinary. Solutions.
We are a devoted team of skilled and gifted chefs, food scientists, business strategists, marketing specialists, and creatives inspired by our President & Executive Chef Charlie Baggs. Our team is led by some of the most driven and influential professionals in the industry. With decades of combined experience in the food and beverage industry, your business is in very capable hands.
Get to know some of the team members, including our founders, that make our company one of the best in the business.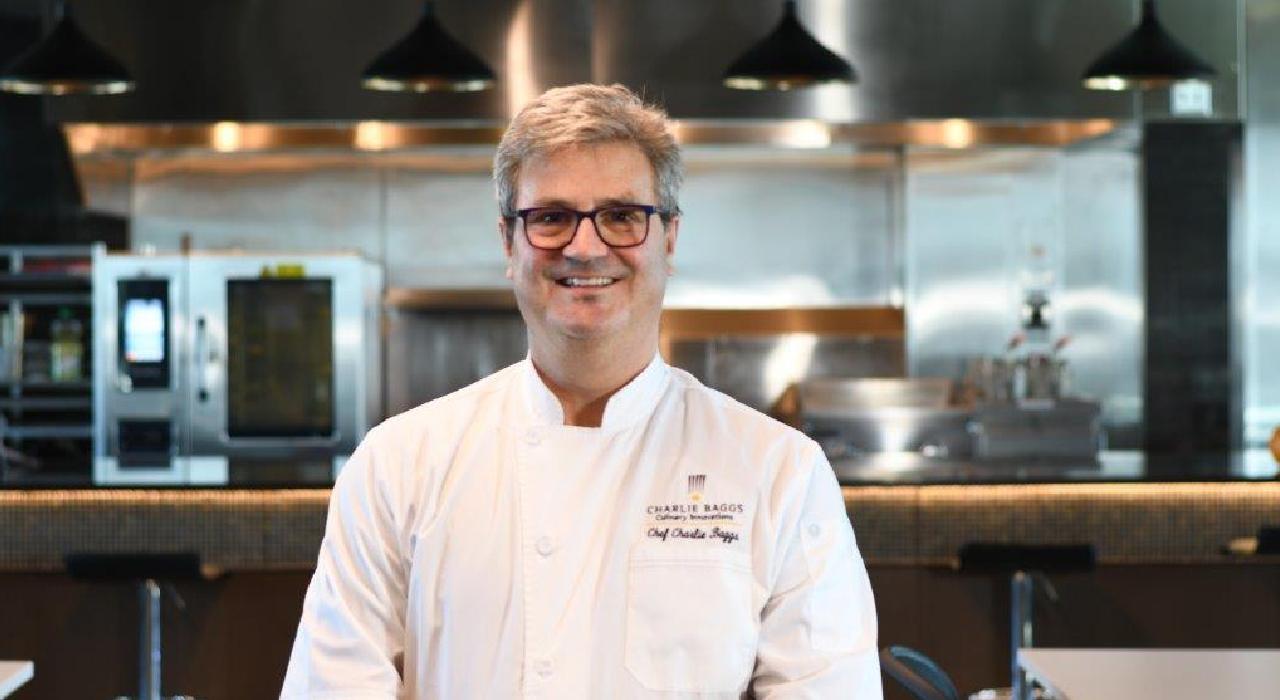 Charlie Baggs
President & Executive Chef
Starting in 1999, Chef Charlie began this labor of love to build the food industry's premium consulting practice. His passion for cooking goes back to his childhood in Indiana where he first learned how to make biscuits and gravy with his father.
Armed with a degree from Purdue University in hotels, tourism, and restaurant management, Charlie continued his higher education at the Culinary Institute of America, graduating with honors. He then honed his skills working in some of America's top kitchens including Ambria, Spiaggia, Marriott Hotels, and Walt Disney World.
As a nationally recognized expert in the industry, he has been a distinguished speaker for the Institute of Food Technologists and has shared his expertise as a speaker at the annual conferences of the National Restaurant Association and the Research Chefs Association. He and his team also conduct virtual culinary training sessions via webinars from his kitchen.
When not cooking up magic in his kitchen, Charlie enjoys helping teach Boy Scouts how to plan and cook meals around a campfire. A big believer in the concept of giving back, Chef Charlie was an adjunct professor at Purdue University, where he taught a course in "Culinary Arts for the Food Scientist" within the Food Science Department. He and his team also train students from the Illinois Institute of Technology in culinology and product development. From his culinary center headquarters to his clients' kitchens to training his next protégée, he can always be found bringing his passion for cooking to life.
Kathy Baggs
VP of Special Projects
The highlight of Kathy's professional life is the critical role she has played in working with Charlie to build CBCI and help it grow. While CBCI was growing, Kathy worked in partnership with her husband to manage the essential, non-culinary components including marketing, accounting, human resources, and IT.
Prior to helping Chef Charlie grow the business, she put her bachelor's degree in finance from Suffolk University to work in the financial industry with positions at SQL Financials, Northern Trust Bank, Continental Bank, and the Bank of New England. While she enjoys having her talented husband take charge of dinner, Kathy is the executive chef when it comes to cooking up the family breakfast and baking holiday treats with the kids. Kathy spent many years volunteering in various roles with the Women's Food Service Forum. In addition to being Chef Charlie's business partner, Kathy also manages the many activities of the Baggs family, including their four children and an adorable family dog.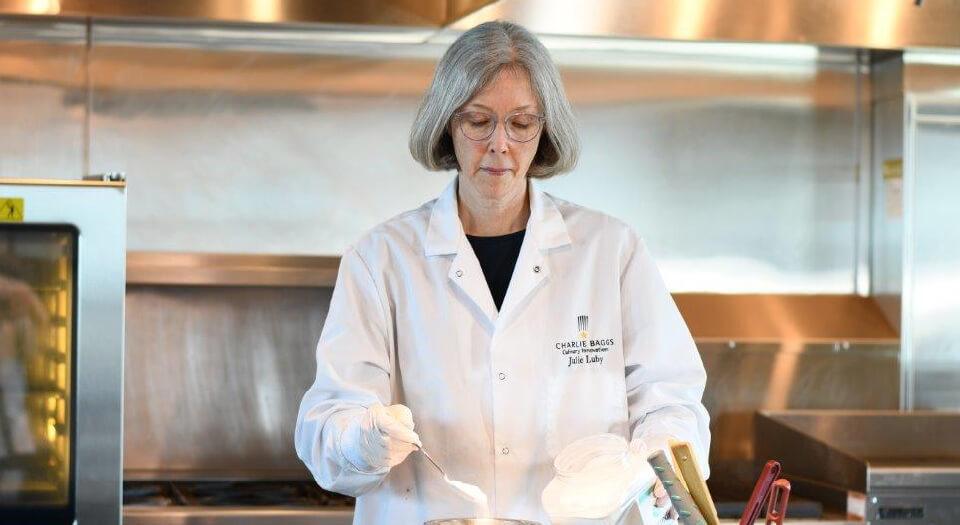 Julie Luby
Emeritus VP of Research & Development
Julie comes from a food family. Her father grew up on a dairy farm and pursued a career in agricultural economics, her mother is a registered dietitian, and her brother is a professor and fruit breeder who helped introduce Honeycrisp apples to the world. Her fondest childhood memories about food involve churning homemade ice cream on the porch, which eventually became the "main dish" for dinner on summer Sunday evenings.
Throughout her 30+ years as a food product development and technical services leader, she has served as a respected thought partner for her colleagues and customers and helped to develop and introduce immensely successful new products in food service and retail. Julie holds a bachelor's degree in food science from Purdue University and a Master of Science in food science from Michigan State University. She has worked for companies such as ConAgra Foods, Ralcorp, Bakery Chef, Quaker Oats, General Mills, and Oscar Mayer.
Julie is recognized for collaborating with customer teams to overcome challenges by thinking differently and finding innovative ways to solve detailed industry problems and being able to communicate complex technical ideas to all audiences.
Julie is also a National Board-Certified Functional Medicine Health Coach. In her spare time, she guides clients to live a healthier life than previous generations and helps them make lifestyle changes to prevent and reverse chronic illnesses, such as cognitive decline and diabetes. Her knowledge of healthy eating and living also informs her work in leading the Charlie Baggs technical team's product development work.
Julie's travels have taken her to every state in the U.S. and many countries in Central America, South America, Asia, and Europe. She has enjoyed eating and experiencing the culture in each of these places!
Zal Taleyarkhan
Corporate Research Chef
Growing up as the son of a captain in the Indian Merchant Navy, Chef Zal was exposed to a variety of cultures in locations as far flung as Tokyo, Singapore, Hong Kong, Istanbul, and Sydney, which sparked his interest in the culinary world at a young age.
While completing his bachelor's degree in tourism studies from the Indira Gandhi National University in India, Zal began his career working for the luxury hotel chain Oberoi. He spent late nights studying and working in all areas from dishwashing and cooking on the line to butchery, Garde Manger, bakery, and pastry, where he eventually specialized in chocolates. This experience inspired him to gain more formal culinary training by coming to the U.S. In Chicago he pursued an associate degree in culinary arts from Kendall College, eventually interning with Charlie Baggs Culinary Innovations.
After working in many notable Chicago restaurants, including Perennial, Virant, MiTerra, Alinea, and Jam, Chef Zal returned briefly to India and collaborated with Chef Charlie on a development project with a large prepackaged convenience food manufacturer there. A short time later, he returned to Chicago to work with CBCI, focused on the technical side of product development.
Chef Zal is naturally curious and maintains a passion for food investigation and creation, using his time off to experiment with out-of-the-box ideas to blend the science and art of food. He believes imagination balanced with common sense will get you everywhere. He is incredibly talented at finding unique solutions to our client's technical challenges and bringing flavor to life.
Michael Battocletti
Business Development & Sales Coordinator/Corporate Chef
Chef Michael Battocletti began his journey into the culinary world at a young age by watching his grandmother cook for his family. From birthdays to holidays, his grandmother's cooking was always the center of the event. She would let him taste things and would explain every step of what she was doing to make each dish truly her own. Now that he is the one cooking for those special holidays, he remembers those special moments with his grandmother and brings that special connection with her to every dish he creates.
After initially studying international business in college, Michael quickly realized that the corporate business world was not something he would be happy pursuing. When thinking about what he wanted to do with his life, he thought back to the joy he felt in his kitchen with his grandmother, and he knew that cooking would never stop bringing him joy. Once he completed his education, Michael worked for companies ranging from Lettuce Entertain You Enterprises to Next Restaurant. He was Executive Chef of RPM Steak, RPM Italian, and Mon Ami Gabi, and a Sous Chef at Next.
For the past few years, Michael has been working with our team to build out our business development capabilities, as well as working with Julie and the culinary team with projects ranging from product development to restaurant operations. His skill set has allowed our staff to expand our creative and business development offerings.
Nicole VanWort
Corporate Chef
Nicole VanWort was born and raised in the suburbs of New York City where her passion for food was created from her exposure to different ethnic cuisines during her childhood. After taking culinary classes during high school and working in restaurants, Nicole attended Johnson and Wales University to study Culinary Arts followed by a Bachelor's Degree in Culinary Nutrition with a focus on Food Science and Product Development.
During her senior year in college, Nicole studied abroad at the Auckland University of Technology in New Zealand to study critical food gastronomy and sustainability. Upon returning to the states, Nicole moved to Chicago, IL, and brought her experience in the restaurant industry to her position as a Product Development Chef with Charlie Baggs Culinary Innovations.
Chef Nicole thoroughly enjoys the discovery phase of projects when she can dive deeply into the food and cuisine research required for successful development. This information informs her recipe development process to ensure that our clients receive the most successful outcomes. She is also very proficient in planning menus, prepping delicious samples, and representing our clients' brands at trade shows and large events in the culinary space.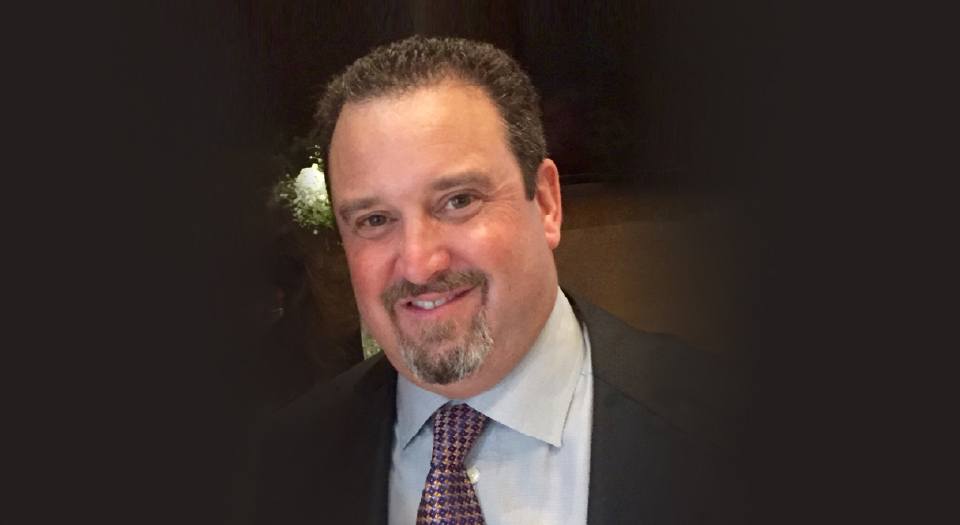 Jay Kimball
VP Business Development
Born and raised in New Orleans, Chef Jay began working in family restaurants at age 15, and although he was completely unaware at the time, this planted the seed for his future in the food and beverage industry. After high school, he attended LSU and was accepted into the college of business, which made his career path seem no less certain.
Yet while at LSU, he continued working in restaurants in the Baton Rouge area which further fueled a passion for a career in the culinary field. This led him to continue his education both in culinary arts at the CIA and food science at the University of Nebraska.
Upon completing his studies, Chef Jay returned to his hometown and the restaurant business. His flavorful culinary background includes executive chef positions at top restaurants in the New Orleans area. However, it was as sous-chef of Gabrielle's, a fine-dining restaurant specializing in indigenous Louisiana cuisine, where he came to appreciate the value of authentic Cajun and Creole dishes.
Jay joined Chef John Folse & Company in 1996 as Executive Chef of the award-winning and internationally recognized Lafitte's Landing Restaurant. He served in multiple roles there until ultimately, he was named vice president research and business development.
His culinary honors include being named one of New Orleans' Top Chefs by The Times-Picayune in 1994 and the next year being featured in the national television series "Great Chefs of New Orleans." In 2006, he earned the distinction of becoming a Certified Research Chef, one of only 60 in the U.S. at the time.
He says his culinary career has been an incredible ride that has taken him all over the world, uniting people through the power of shared cooking experiences and genuine hospitality – even for a few U.S. Presidents and foreign dignitaries.
Today, Chef Jay is continuing his "incredible culinary ride" at CBCI in business development.
Lauren Sandras
Product Development Scientist
When you grow up on the Gulf Coast submersed in Creole cuisine, cooking is simply a natural part of life. Lauren's family is from New Orleans, and she grew up on gumbo and crawfish boils. The food was always good and plentiful – made to share with loved ones and strangers alike. From a young age she learned never to take for granted special meal moments, whether it was making stew over a campfire amidst all her extended family or side salads in her uncle's restaurant in Pass Christian, Mississippi.
Lauren always felt destined for a career in food, despite also having a passion for science. But it wasn't until touring the John Folse Culinary Institute at Nicholls State University that she realized she could pursue both. When she discovered food science and product development were included in the curriculum, her career path was sealed.
While at Nicholls State University earning an associate degree in culinary arts followed by a Bachelor of Science in food science, Lauren completed two externships. The first took her to Nanjing, China, for six months to Iced Baking where she interned as a pastry chef and learned "bakery Chinese." The second one was closer to home in the R&D lab at Chef John Folse & Company Manufacturing. She learned a great deal from the legendary chef and his talented team.
Upon completing her studies, Lauren started her career formulating soups, stocks, and sauces. Then eventually she ended up developing clean label and nutritionally-enhanced products. One thing she came to appreciate along the way is in formulating retail products, she could in some small way be a part of making someone's day a little better.
At CBCI, Lauren is part of the R&D team where she applies her food science and culinary skills to product development projects.
Jenn Farrell
Director of R&D
Jenn has always loved food and was inspired to learn to cook at a very early age from watching Julia Child on TV. Her first solo cooking experience was making a fondue-type chocolate dip in the microwave when she was five, because she wasn't tall enough to reach the stove. After that, she never looked back, progressing to more intricate and delicious recipes over the years.
Her career in food science, though, was mentored by a wonderful chemistry professor in high school who noticed Jenn was more interested and excelled in labs that were food based. He gave her an article about careers in the food industry – which she still has – and she loved the food scientist description. That led to a visit to Purdue University, and the rest is history.
After starting at Purdue and completing her first internship, Jenn was firmly hooked on food science. She loved learning about it and was challenged by its technical complexities. While pursuing her bachelor's degree in food science, Jenn worked in the pilot plant, and sensory and enology labs on campus. Following her passion for cooking, she also took an elective culinary course taught by Purdue alumnus, CBCI founder, and chef, Charlie Baggs. And the best thing she learned – was to express herself through her cooking.
Postgraduation Jenn headed to Chicago to begin her career in food and beverage R&D at a juice/juice concentrate manufacturer where she got her first taste of product development. From there, she honed her innovation skills in progressively more senior positions at Unilever, PepsiCo-Quaker, and most recently, Gonnella Baking Co. Along the way, Jenn gained an understanding of what needs to be accomplished at each stage of a project, cross-functionally.
Along with her new product development experience, Jenn brings a strong technical and process background to client work at CBCI. This helps her ask the right questions to achieve smoother scale-up on projects.
David Wakefield
Corporate Chef/ Facilities Manager
Born and raised in Texas, the oldest child of two working parents, David learned to cook out of necessity with a bit of trial and error and a few cookbooks. Spending many of his summer mornings picking peas, corn, tomatoes, watermelon, and peppers from the family garden, he learned the intricacy of flavor as it applies to fresh and seasonal foods. Hunting and fishing were another part of David's early life, taught by his father and grandfather. This instilled in him a deep respect for the natural world along with its plants and animals. These lessons remained with him and became the seeds of his culinary career.
While David's first foodservice job was as a host in a Mimi's Café in Ft. Worth, his first cooking job was in McDonald's. And that set him on a path to pursue a career as a chef. David went on to work in a number of professional kitchens, always identifying the best cook, trying to learn everything he could from them. He loves the creativity, strategy, and discipline it requires to be successful as a chef. Professionally, David says he's been lucky to be mentored by some amazing chefs, who taught him patience and restraint along with provocative thought processes toward service and execution.
His cooking career has spanned many concepts and genres of cooking, including Japanese, Korean, Texas BBQ, New American, French, and Southern comfort. However, David's constant quest for knowledge kept him from limiting himself to these. Finding his own style in the kitchen took extra time because of his wide-ranging interests and eclectic style, but good things come to those who wait. When asked to describe his own style, he finds it difficult. "If I had to choose a phrase to describe it, I'd say it's a mix of Texas BBQ, French technique, and Asian flavors all rolled up in a big burrito."
Most of his career, David worked in Austin, but he also spent three years in the Alaskan backcountry cooking with local and foraged ingredients in a completely wild setting hundreds of miles from a paved road or grocery store. Eventually though, his journey led him to the culinary hub of Chicago.
Working as a chef in Chicago during the pandemic, he met Chef Charlie Baggs and his wonderful team by chance. David was very interested in the innovative side of the culinary business, and the more he spoke with the team the more it seemed like CBCI might be a good place to "stretch his legs" as an innovator. Now David is sharing his culinary knowledge and experience with CBCI clients.
Chase Baggs
Sophie Baggs
Jonathan Crossland
We are constantly developing innovative solutions for clients looking to expand their businesses, fill gaps in their market, and generate deep and reliable consumer insights. Our team is one of the best in the food industry, and we are proud of our ability to move quickly, comprehensively solve complex issues, and nimbly navigate the technical side of the food industry.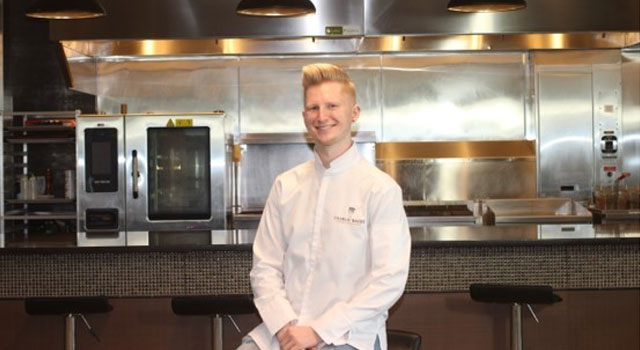 Carter Richards
PRODUCT DEVELOPMENT CHEF
Until he was a junior in high school, Chef Carter imagined a future in the scientific world of medicine. Culinary school was not even a consideration. In fact, he didn't know much about cooking other than what he picked up on visits to his grandparents, watching the Barefoot Contessa, cooking traditional family dishes, and relishing in his grandmother's family china. Yet food was a central point in Carter's life; from a young age, it made him realize the magic a meal can bring to a group of people.
Then, the trajectory of his life changed with the unexpected death of his father. It caused him to reevaluate everything, which led him to thinking about an age-old saying his father often repeated – "Love what you do, and you'll never work a day in your life."
That was when he knew he needed to go to culinary school to make his father proud and continually learn the art of cuisine. Neither of his parents cooked much, so Carter's interest in culinary school surprised his supportive, amazing family. He applied to The Culinary Institute of America in Hyde Park, N.Y., and instantly knew it was the place for him.
Chef Carter went all-in on his newfound career path, learning everything he could from what he claims were "the best chefs in the world." He graduated as a dean's list honoree with a bachelor's in culinary science. By next year, he hopes to complete his master's in food business management from the CIA, with a focus in concepting and food production.
Carter has worked in a variety of food industry jobs, starting with the humble yet important job of dishwasher. His other opportunities led him to work in fast-casual restaurant chains, catering, as a junior sous chef, a FOH manager-in-training, and most recently, as a culinary testing technician for an appliance company.
Chef Carter takes great pride in his hometown of Buffalo, New York, where he was born and raised, although he readily admits it's neither a food capital nor a foodie destination – unless you're a chicken wing afficionado – and who isn't? While Buffalo reminds him of wonderful homestyle cooking with his grandmother, nowadays he's more apt to riff on the classic French cooking techniques he mastered in school, enhancing them with an elevated modernness.
As a product development chef, he uses his culinary skills to identify areas for process improvement, and collaborates in ideation, product innovation, and gold standard product formulation. He is eager to work with the CBCI team to help companies push themselves to their culinary goals. Chef Carter is also a seasoned culinary instructor, tutor, and photographer.
Juliet Greene
AVP of Culinary
Chef Juliet Greene discovered her culinary passion at age 15 as an exchange student in Seville, Spain. Throughout her high school years in the U.S., she worked at a local restaurant in her community. Following graduation, she continued to pursue her passion and develop her palate while in New Orleans attending Tulane University, where she pursued a Bachelor of Arts degree in International Business and Spanish.
Upon graduation, Juliet traveled the world in her first career as an international banker, but her desire to cook brought her back to the kitchen for formal culinary training. Chef Juliet Greene earned her Culinary Arts degree from Kendall College in Chicago. She subsequently served as the Culinary Program Director and Lead Instructor for Sur La Table in Chicago. In addition to her savory experience, Chef Juliet worked as a pastry chef for the Racquet Club in Chicago.
She first joined Charlie Baggs Inc. in 2004 in the Chicago office and then opened the Denver office in 2007. In 2012, Chef Juliet left Charlie Baggs to join Leprino Foods as their Global Executive Chef running the culinary departments in both Denver and Singapore. When the opportunity presented itself to rejoin the Charlie Baggs Culinary Innovations team in 2016 as Director of New Business Development and Sr. Corporate Chef, Chef Juliet made the exciting decision to return home to her original roots in the corporate chef world. With a true passion for working with food manufacturers and national accounts, Chef Juliet focuses on driving demand for her clients by bringing real and unique flavors to the menu.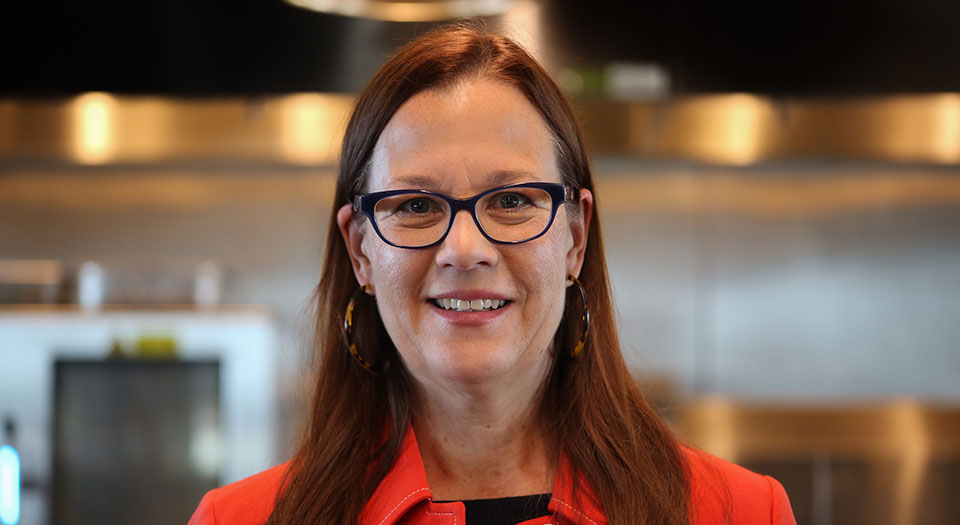 Becky Schlaebitz
VP Business Development
Becky Schlaebitz grew up in a household where food brought friends and family together. There was always a garden, filling the dinner table with fresh fruits and vegetables and filling the cellar with homemade canned products. Having cucumbers and cream over mashed potatoes paired with homemade fried chicken was a common meal on a hot summer Nebraska day.
Graduating from the University of Nebraska-Lincoln in journalism, food was never far away. Enthusiasm for communications and commerce lead Becky to the commodity trading and food ingredients business and eventually sales.
A benefit of working more than 25 years in sales and leading teams in various customer channels, international geographies, and different product lines, including soybeans and soybean oil, corn and corn byproducts, wheat and other small grains, garlic, onion, and peppers, Becky likes to connect people and ideas. Always learning, she went back to the University of Nebraska, receiving her Executive MBA degree with a focus on international business in India.
Becky is a problem solver. She loves connecting client needs to the talented team at Charlie Baggs Culinary Innovations. Still a gardener, now at high elevation in Colorado, she enjoys using all her experiences, personally and professionally, to bring projects and visions to life.
Experience the difference
If you are interested in taking your menu, culinary offerings, or your team's capabilities to the next level, the elite team here at The Charlie Baggs Culinary Institute is ready to help. Don't just be a part of the food industry, start leading it.